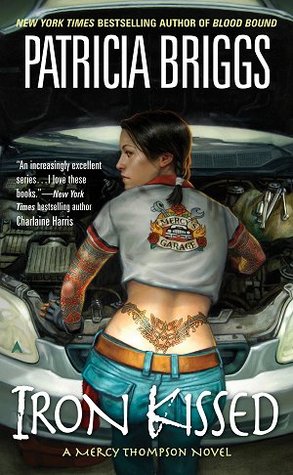 by Patricia Briggs (Author), Lorelei King (Reader)
Audio Edition – Read November 4, 2014
Original Release Date: January 2, 2008
Length: 287 pages
Official Description: This is book #3 of the Mercy Thompson series
I could smell her fear, and it satisfied something deep inside me that had been writhing under her cool, superior gaze. I curled my upper lip so she could get a good look at my sharp teeth. I might only weigh thirty or so pounds in my coyote shape, but I was a predator…
Mechanic Mercy Thompson can shift her shape – but not her loyalty. When her former boss and mentor is arrested for murder and left to rot behind bars by his own kind, it's up to Mercy to clear his name, whether he wants her to or not.
Mercy's loyalty is under pressure from other directions, too. Werewolves are not known for their patience, and if Mercy can't decide between the two she cares for, Sam and Adam may make the choice for her…
My Take:
In book one of this series, we learn of werewolves, book two revolves around the world of vampires, this book is in the world of the fae. I loved it so. This book has so many things in it that are wonderful. Just take Mercy, she's awesome, she's kind of bad ass, she can stand up to an alpha werewolf, resist his call, prove that she's dominant, even though she's not really a wolf. She is also vulnerable, and this book takes that vulnerability to a horrible level. It was done well, and I don't mean horrible in a bad way, it's just horrible things happen to Mercy, she gets broken and it's heartbreaking. The author did just a fantastic job creating this world, you can't help but be captivated but Mercy and her stubbornness. She's identifiable, she's utterly perfectly imperfect. This book seems like it might have been harder to write, because it just seems darker and in all that darkness there is still light. We have humor, tears, super action scenes and of course some love. Very little of the story is dedicated to the romance, I think I like it.  Mercy finally realizes what her feelings for both Adam and Samuel are. We learn more about the feelings of Sam and Adam toward Mercy, and how utterly devoted one of these guys is to her. It's greatness. Don't stop reading this series if you didn't love book two, because this one is the best. So raw and well done! Love it.
Quote:
"‎Some people are like Slinkies. They're not really good for anything, but they still bring a smile to your face when you push them down a flight of stairs."
Previous Books in This Series:
Up Next: