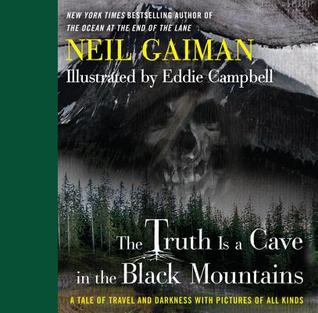 by Neil Gaiman, Eddie Campbell (Illustrations)
Hardcover Edition – Read October 4, 2014
Original Release Date: June 2010, Re-Released June 17, 2014
Length: 74 pages
Official Description:
You ask me if I can forgive myself?
I can forgive myself…
And so begins The Truth Is a Cave in the Black Mountains, a haunting story of family, the otherworld, and a search for hidden treasure. This gorgeous full-color illustrated book version was born of a unique collaboration between New York Times bestselling author Neil Gaiman and renowned artist Eddie Campbell, who brought to vivid life the characters and landscape of Gaiman's award-winning story. In this volume, the talents and vision of two great creative geniuses come together in a glorious explosion of color and shadow, memory and regret, vengeance and, ultimately, love.
…for many things. For where I left him.
For what I did.
My Take:
This story is a hauntingly, beautiful, and dark tale. This tale is set in Scotland or  on the island of Skye…or it was inspired by the island and it's mysticism. I think Scotland in general is known for a lot of druidism or mysticism that makes tales likes this a little bit more haunting or eerie. What should you expect from the story? Well, it is written by a masterful story teller, who went on tour reading this novel with live music and projections of the paintings. It has some pretty epic art by Eddie Campbell, however not all of it was spectacular. It has some great folklore, a great little karma ending. It is short, there were parts that didn't grab me, but over all I loved it. I am glad that I happened to stumble upon this gem of a book.
Quote:
"The truth is a cave in the black mountains. There is one way there, and one way only, and that way is treacherous and hard. And if you choose the wrong path you will die alone, on the mountainside."
Other Books by Neil Gaiman
Up Next: