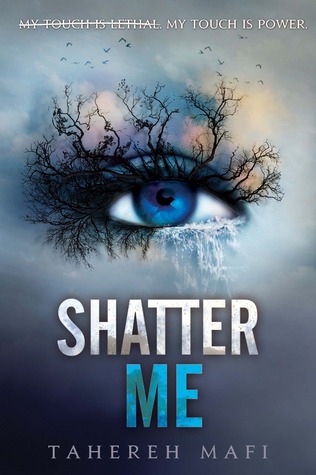 by Tahereh Mafi, Kate Simses
Audio Edition – Read October 8, 2014
Original Release Date: October 2, 2002
Re-Released: November 15, 2011
Length: 338 pages
Official Description: (Book #1 in the Shatter Me series)
I have a curse
I have a gift
I am a monster
I'm more than human
My touch is lethal
My touch is power
I am their weapon
I will fight back
Juliette hasn't touched anyone in exactly 264 days.
The last time she did, it was an accident, but The Reestablishment locked her up for murder. No one knows why Juliette's touch is fatal. As long as she doesn't hurt anyone else, no one really cares. The world is too busy crumbling to pieces to pay attention to a 17-year-old girl. Diseases are destroying the population, food is hard to find, birds don't fly anymore, and the clouds are the wrong color.
The Reestablishment said their way was the only way to fix things, so they threw Juliette in a cell. Now so many people are dead that the survivors are whispering war – and The Reestablishment has changed its mind. Maybe Juliette is more than a tortured soul stuffed into a poisonous body. Maybe she's exactly what they need right now.
Juliette has to make a choice: Be a weapon. Or be a warrior.
My Take: 
I have wanted to read this book series solely for the book covers. I knew nothing about the book before I read it. Well, I listened to it. I don't know if I would have had the same reaction to reading the book, with all the strikethroughs. The audio has a sound effect for these strikethroughs, but it's really good. The narrator did a great job conveying the slipping of sanity that Juliette was facing. I actually think that listening to the book did a better job at conveying the story than just reading it did, because I did read some of it on my kindle as well.
It took me a while to figure out what was going on with Juliette, we know that she is in isolation and alone in some kind of asylum. We know that some catastrophic even has occurred to kill of animals and possibly people. We know that there is something wrong with Juliette, or she has some kind of power that involves touch. It takes forever for these things to be explained. So in my mind Juliette was Rogue, she is a Rogue type lady  that sucks the life out of people, except Rogue uses their energy or 'borrows' other mutants powers. We don't know if this is true about Juliette, but my image of her was not too far off.  The character of Juliette, for this book, is kind of weak. She's an emotional wreck, you would be too if you were isolated for nearly a year. She doesn't really have a real grasp for what is around her, but by the end of the book she starts to get that back. Juliette, I think could really be an ok 'good person' or an awesome 'bad guy'. She's written to be good though. There are so many aspects to her that we just haven't found.
Then we have the two men in Juliette's life. Adam who is a soldier, someone Juliette knew as a child, and the love interest. He's kind of fickle, I mean yes he obviously cares for Juliette, but he just doesn't seem right to me. He's too, two-dimensional, there isn't much depth to him. I get that he's the good guy, that he wants to be the hero, but he just doesn't impress me. Then there is Warner. Warner is insane. Driven that way, seemingly, by his upbringing, he has no remorse to killing off random soldiers, no remorse for the torture of children, or even their death. He is the bad guy…hands down. I love him. He's awesome, he actually is a flushed out character, we see depth to him. He cares, in a weird, psychopathic way. He 'loves' Juliette in his own way, he tries to care for her and she leads him on and shoots him. I am always rooting for the bad guy, because authors always give more thought to these characters. They make them just so much more interesting. Warner is interesting, I like that. I think there is just so much more to him than meets the eye.
Overall, the story is well done. It is not for everyone, and is prose heavy. Juliette is crazy  (or on the brink of insanity) for a large portion of this book, and it is written that way. People have a hard time getting into a mind that isn't 'normal'. That is understandable. You as a reader have to understand that whoever has locked up this girl, has driven her to a brink of insanity that most of us will never understand. It's and interesting perspective, hard to get into at first, but an overall good story.
Quote:
"Hope is hugging me, holding me in its arms, wiping away my tears and telling me that today and tomorrow and two days from now I will be just fine and I'm so delirious I actually dare to believe it."
Up Next: