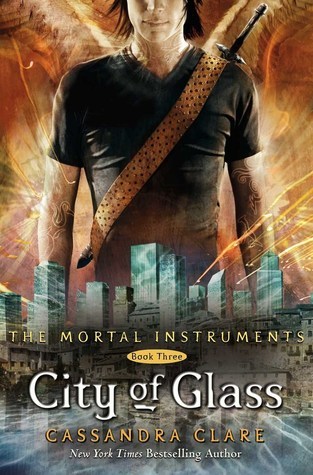 by Cassandra Clare, Natalie Moore (Narrator)
Audio Edition – Read  August 18, 2014
Original Release Date: February 14, 2009
Length: 561 pages
Official Description: (This is book 3 of the Mortal Instruments series)
To save her mother's life, Clary must travel to the City of Glass, the ancestral home of the Shadowhunters – never mind that entering the city without permission is against the Law, and breaking the Law could mean death. To make things worse, she learns that Jace does not want her there, and Simon has been thrown in prison by the Shadowhunters, who are deeply suspicious of a vampire who can withstand sunlight.
As Clary uncovers more about her family's past, she finds an ally in mysterious Shadowhunter Sebastian. With Valentine mustering the full force of his power to destroy all Shadowhunters forever, their only chance to defeat him is to fight alongside their eternal enemies. But can Downworlders and Shadowhunters put aside their hatred to work together? While Jace realizes exactly how much he's willing to risk for Clary, can she harness her newfound powers to help save the Glass City – whatever the cost?
Love is a mortal sin and the secrets of the past prove deadly as Clary and Jace face down Valentine in the third installment of the New York Timesbestselling series The Mortal Instruments.
My Take:
It has been a year since I read City of Ashes. In fact it seems I only read one of these books, once a year. Maybe I just need some time away from it to forget the parts that annoy the bejesus out of me. Mostly what annoyed me was the whole Jace and Clary thing. I predicted that they aren't really siblings, in the last book. Why because EWW the whole book they are making moo moo eyes at each other, making out, trying not to get TOO intimate, all while saying, "This is wrong, you're my sibling" and it's gross. That whole relationship overshadows the whole story, and the underlying story isn't terrible.
Ok lets move on. The story. Well, we're trying to find the third Mortal Instrument, The Mortal Glass/Mirror. Jace doesn't want Clary in Idris, he goes taking a dying Simon with him. Simon is thrown in jail. Clary makes her way with Luke to Idris, landing in a lake that causes hallucinations when ingested by Shadow Hunters. There are new characters, Clary and Jace find out how they are experiments. They whine and have lots of angst, 88% of the book. Clary decides to stop moping and use her gift of Runes to save the shadow hunters from Valentine. Things happen that make you say "yeah" we see actual angels in this book. Which turned out to pretty darned epic. There is a lot of betrayal, misunderstanding, really horribly sad moments. Clary, I don't relate to Clary, maybe because I'm not a teenage girl, but I don't think, even back then, I would have ever related to Clary. She is too passive, to melodramatic, way too self-serving for my liking, plus she is underutilized. She has so much potential and Clare just kind of pushes it to the side and leaves her dependent on everyone else around her. Then there is Jace. Jace isn't all that awesome he's mean, of course he's mean for Clary's sake, he's self-centered, jumps to the wrong conclusions. Whatever, most of the book was entirely annoying. I got this as an audiobook and had a hard time getting into the narrator.
I did enjoy the ending. The twists were way obvious, I knew what would go down with Sebastian as soon as he was introduced. Once we got past all the melodrama and in to the story, which of course was saved for the end, then the book became enjoyable. I really did like how it ended, I have an idea where the future books will go, but there were a lot of wrap ups in this book. I still love Magnus Bane, he's one of the best characters, I love the eccentric sort, it adds so much to a character. I like that there isn't really a love triangle. People say there is, but there isn't, I know that Simon loves Clary, they tried it didn't work and they are BFFs. Not a triangle. Whatever. I wish that the whole story was as good as the end.
(I apologize, my brain was all over the place while writing this, lets hope it makes some sense.)
Quote:
"People aren't born good or bad. Maybe they're born with tendencies either way, but its the way you live your life that matters."
Previous Books in this series:
Up Next: