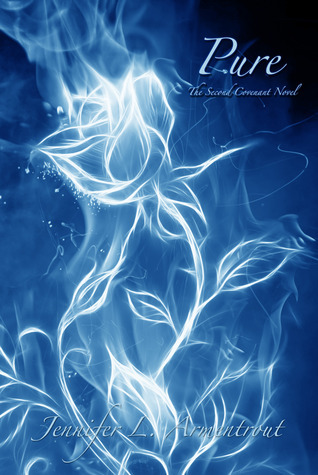 by Jennifer L. Armentrout
Kindle Edition – Read April 22, 2015
Original Release Date:  March 12, 2012
Length: 320 pages
Official Description: (This is book #2 of the Covenant series)
Being destined to become some kind of supernatural electrical outlet isn't exactly awesome–especially when Alexandria's "other half" is everywhere she goes. Seth's in her training room, outside her classes, and keeps showing up in her bedroom–so not cool. Their connection does have some benefits, like staving off her nightmares of the tragic showdown with her mother, but it has no effect on what Alex feels for the forbidden, pure-blooded Aiden. Or what he will do–and sacrifice–for her.
When daimons infiltrate the Covenants and attack students, the gods send furies–lesser gods determined to eradicate any threat to the Covenants and to the gods, and that includes the Apollyon… and Alex. And if that and hordes of aether-sucking monsters didn't blow bad enough, a mysterious threat seems willing to do anything to neutralize Seth, even if that means forcing Alex into servitude… or killing her. When the gods are involved, some decisions can never, ever be undone.
My Take:
It has been awhile since I read Half-Blood and I had a really hard time remembering everything, for a little bit. There are some bits that I was still hazy on but everything came flooding back to me once I kept reading. I love mythology, I love that there seems to be a little more thrown into this book than the last one. Honestly I kept mixing this series up with the Mythos Academy Series just because they are a little bit similar in theme, though Alex is not a psychic. So here we are back in the world of segregated races, the "Pure's" and the Half-Boods. If any half-blood is seen in a sexual manner with a pure they are either are forced into servitude or killed. Can't mix races after all, we actually see how far the council will go with that craziness in this book. We see a lot of crazy in this book. We have the fall out of the whole Aiden's 'mistake' with Alex. Seth inserting himself more into Alex's life, though not enough in my book. Then we have Alex kind of alone and isolated in her world of fear. There are lots of twists, turns, deaths, betrayals and revelations thrown at you in this series. We learn a little more about Alex's step dad as well, and we kind of learn about her dad. I'm shaky on that subject, but my guess is that her dad is a half-blood and she is like a 3/4 blood….i don't know it would fit. We have the oracle appear again, giving her a vague prophecy. It doesn't seem that vague to me, but Alex pretty much ignores her until after events occur.
I am avidly team Seth, though it seems like they have set him up, since book 1, to be a bad guy, for us to fall for him then have us disappointed that he would do something terrible, that is my prediction, nothing like that happens here. I do like Seth I think that he has a sense of loneliness since he is the Apollyon. I believe that he has a sense of belonging with Alex, he is no longer the only one, he has someone to share a connection with, who will understand him, that has to have some solace in it.
I'm not going to give away the story, but I love the writing, enjoyed the characters. I so love the sarcasm, that is currently some of my favorite dialog, full of wit. It's all fantastic, great addition to the story.
Other Books by Jennifer L. Armentrout
My favorite Quotes:
""Aw, did you just fall?"
"No." I rolled onto my back, wincing. "I attacked the floor."