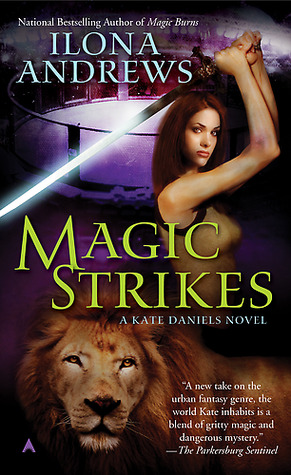 by Ilona Andrews, Renée Raudman (Narrator)
Audio Edition – Read July 13, 2014
Original Release Date: February 20, 2009
Length: 310 pages
Official Description: (This is book #3 of the Kate Daniels series)
When magic strikes and Atlanta goes to pieces, it's a job for Kate Daniels… 
Drafted into working for the Order of Merciful Aid, mercenary Kate Daniels has more paranormal problems than she knows what to do with these days. And in Atlanta, where magic comes and goes like the tide, that's saying a lot.
But when Kate's werewolf friend Derek is discovered nearly dead, she must confront her greatest challenge yet. As her investigation leads her to the Midnight Games—an invitation only, no holds barred, ultimate preternatural fighting tournament—she and Curran, the Lord of the Beasts, uncover a dark plot that may forever alter the face of Atlanta's shapeshifting community…
My Take:
It has been quite some time since I read Magic Burns, I actually remember a good chunk of what happened. Unlike other books that I forget as soon as I put them down, the Kate Daniels series sticks with me. Why? The writing is great, the characters are flushed, flawed, and kick butt, even the weak ones. The world doesn't revolve around romance, but around whatever is going on, there is actually a plot. I great plot, this one is all around the Midnight Games, a gladiator type of event, that is illegal. There is intrigue, mythology, old characters you love, new characters you'll love and hate. It is just written fantastically. The one thing I don't remember is Kate really giving us a glimpse of who she is. Why she really burns her bloody rags, why she's hiding. Well, faithful newbs, like me, have no fear you'll find out in this one, it's awesome. Kate just becomes more and more awesome as the series progresses. This book is the best out of the three. There is just so much more action, death, bloody mayhem, witty banter and more Curran. Who goes a bit stalker in this one. There is so much awesome wrapped in these 310 pages that if I keep typing I'm going to reveal way too much, because so much happens in this book. It is well worth your time.
Previous Books in this series:
Quote:
"I gave him a smile. I was aiming for sweet, but he turned a shade paler and scooted a bit farther from me. Note to self: work more on sweet and less on psycho-killer."
Up Next: