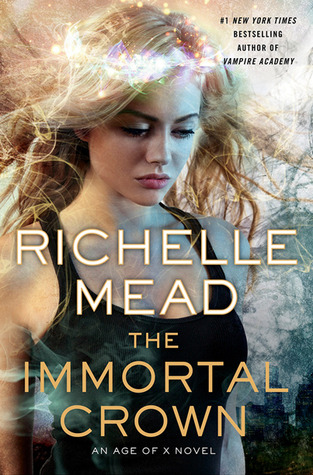 by Richelle Mead
Kindle Edition – Read July 27 2014
Original Release Date: May 29, 2014
Length: 432 pages
Official Description: (This is book #2 of the Age of X series)
Gameboard of the Gods introduced religious investigator Justin March and Mae Koskinen, the beautiful supersoldier assigned to protect him. Together they have been charged with investigating reports of the supernatural and the return of the gods, both inside the Republic of United North America and out. With this highly classified knowledge comes a shocking revelation: Not only are the gods vying for human control, but the elect—special humans marked by the divine—are turning against one another in bloody fashion.
Their mission takes a new twist when they are assigned to a diplomatic delegation headed by Lucian Darling, Justin's old friend and rival, going into Arcadia, the RUNA's dangerous neighboring country. Here, in a society where women are commodities and religion is intertwined with government, Justin discovers powerful forces at work, even as he struggles to come to terms with his own reluctantly acquired deity.
Meanwhile, Mae—grudgingly posing as Justin's concubine—has a secret mission of her own: finding the illegitimate niece her family smuggled away years ago. But with Justin and Mae resisting the resurgence of the gods in Arcadia, a reporter's connection with someone close to Justin back home threatens to expose their mission—and with it the divine forces the government is determined to keep secret.
My Take:
I have been anxiously awaiting this book since the end of Gameboard of the Gods I thought that book 1 was interesting, taking us out of the worlds we're used to in other fantasy/paranormal type books that are popular. We get to see varying mythologies, one of my childhood passions, in an interesting way. So why did it take me forever to read this one?
I have actually had this book for a month or two prior to the release date. I would start reading then fall asleep, for a good chunk of the beginning of the book, we'll say a good quarter of the book did not keep me hooked, did not capture me. Maybe it was just me having a hard time getting back into this highly complex world. When I say highly complex, I mean there are so many rules and layers involved in this story that in order for me to really get into it I had to fully immerse myself in this world. Which I eventually did once everything picked back up. We added new players in this story, Mae continues god bouncing, the gods continue to screw around with everyone's lives. Mae and Justin are still skirting around their, obvious to everyone, feelings towards one another. This book isn't about just Justin and Mae's journey, we also have a story on the side that will kind of connect what's going on in Arcadia with what we learn with Tessa. She's an awesome little protegé that Justin has found. At first her story was kind of meh, but as she gained confidence in her investigation of a certain political party, we learn so much about Lucian, the potential future of RUNA and what is possibly in store for the next book.
The book is just so vast, so incredibly vast that it's hard to describe it well, without going in to spoilers. This book does travel to Arcadia, the southern part of the former USA, they even give you the former name of the town and state that they are going to so the reader can actually imagine where these characters are going. I forgot where exactly it was, but it was a southern state. This is definitely an extremist country, the story shines a light on the poor treatment of women, they are lower than low. If they show their ankle they are beaten, cloistered and punished in some way. Men have multiple wives, there is kidnapping of Gemman girls, human trafficking, out of control Elite's. Arcadia is nuts, then Mae and Justin enter the country and crazy it up further, all while giving Lucian the credit. I don't like Lucian, I don't trust him, he's going to end up being a super-villain in the end I bet. You don't have that name without expecting to be evil in disguise.
Ok, overall, one you get back into the book, it's well done. Beautifully written. Epic. That ending. Love that ending! I knew who the mystery god was as soon as that god showed up. Knew it. The next book will be even more epic than this one. Warning guys, this isn't like Meads other books, it's deep, it's serious, it's very political, and can be difficult to read. I love that Mead wrote this, it shows how diverse of an author she is, and just displays her talent extraordinarily.
*I did receive this book for free for an honest review.
Other Books by Richelle Mead:
Georgina Kincaid Series:
Succubus Dreams (Book 3), Succubus Heat (Book 4), Succubus Shadows (Book 5), Succubus Revealed (Book 6)
Dark Swan Series:
Shadow Heir (Book 4), Dark Swan (Graphic Novel)
Age of X Series:
Gameboard of the Gods (Book 1)