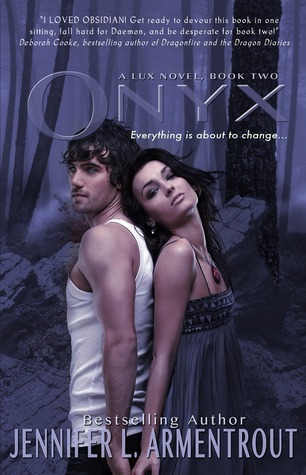 by Jennifer L. Armentrout
Kindle Edition – Read September 2, 2014
Original Release Date:  August 14, 2012
Length: 366 pages
Official Description: (This is book #2 of the Lux series)
Being connected to Daemon Black sucks…
Thanks to his alien mojo, Daemon's determined to prove what he feels for me is more than a product of our bizarro connection. So I've sworn him off, even though he's running more hot than cold these days. But we've got bigger problems.
Something worse than the Arum has come to town…
The Department of Defense are here. If they ever find out what Daemon can do and that we're linked, I'm a goner. So is he. And there's this new boy in school who's got a secret of his own. He knows what's happened to me and he can help, but to do so, I have to lie to Daemon and stay away from him. Like that's possible. Against all common sense, I'm falling for Daemon. Hard.
But then everything changes…
I've seen someone who shouldn't be alive. And I have to tell Daemon, even though I know he's never going to stop searching until he gets the truth. What happened to his brother? Who betrayed him? And what does the DOD want from them—from me?
No one is who they seem. And not everyone will survive the lies…

My Take:
Katy's theme song(s) should be: "Changes" and "Hot and Cold" because a) she's all crazy now since the whole end of the last book, not literal crazy, but there's a lot of stuff going down with her that is not normal. B) Seriously, you are in to Daemon, stop pretending he's not in to you, that this "connection" makes him go all googly eyes around you. Why are you so all over the place, it irritates me to no end. Just…ugh.
This book is still fun. I love the whole story line. There are some great twists, new characters and new powers. I love Katy's line of thinking. She just wants to be the best she can be. She doesn't want to always be rescued and she wants to help others. She is also really confused as to who and what she is. The crazy from the end of Obsidian is coming back 10 fold. We meet some DOD members, there are shocking betrayals, ok they aren't shocking but still. Plus I'm sure the teenage girls will swoon of Daemon. This novels series isn't the best, but it's fun. Sometimes you just need to lose yourself in some fun teenage crazy.
Other Books by Jennifer L. Armentrout
My favorite Quotes:
"I'm not going to do anything stupid. And even if what I plan is risky and insane, it's a well-thought-out level of stupidity."
"I always liked you. From the moment you first flipped me off."