by Tahereh Mafi
Kindle Edition – Read November 5 2014
Original Release Date: October 2, 2010
Re-Released: October 2, 2012
Length: 111 pages
Official Description: (Book #1.5 in the Shatter Me series)
Perfect for the fans of Shatter Me who are desperately awaiting the release of Unravel Me, this novella-length digital original will bridge the gap between these two novels from the perspective of the villain we all love to hate, Warner, the ruthless leader of Sector 45.
In Tahereh Mafi's Shatter Me, Juliette escaped from The Reestablishment by seducing Warner—and then putting a bullet in his shoulder. But as she'll learn in Destroy Me, Warner is not that easy to get rid of. . .
Back at the base and recovering from his near-fatal wound, Warner must do everything in his power to keep his soldiers in check and suppress any mention of a rebellion in the sector. Still as obsessed with Juliette as ever, his first priority is to find her, bring her back, and dispose of Adam and Kenji, the two traitors who helped her escape. But when Warner's father, The Supreme Commander of The Reestablishment, arrives to correct his son's mistakes, it's clear that he has much different plans for Juliette. Plans Warner simply cannot allow.
My Take: 
This wonderful little novella is all about Warner. The one I loved the most in the first novel. Why? Because I love his evilness, his complete character is intriguing, it just seems like he has an interesting back story. We have a brief glimpse of Warner in this book, this fits in the last section of Shatter Me. From the point of being shot, to when we notice Warner in the desert, or wilderness searching. I like that we get to meet his father, that we get a glimpse of Warner. I don't think anyone is truly evil, we all have way too many shades of grey to be as one-dimensional as just a bad guy. We even see the reason why Warner shot the soldier in Shatter Me. We learn he's not so heartless. LOVE IT. This book made me love Warner so much more. I know she won't wind up with him, because most books just don't veer down the path of the least expected. I wish I could expect this one would. Until the end, I will love Warner, his deepness, the fact that he is the most interesting character of the series.
Othe Books by Tahereh Mafi: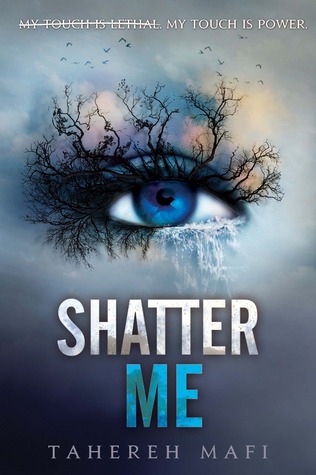 Quote:
"People seldom realize that they tell lies with their lips and truths with their eyes all the time."
Up Next: