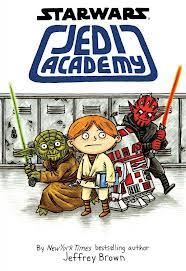 by Jeffrey Brown
Paperback Edition – Read October 8, 2014
Original Release Date: October 1, 2013
Length: 160 pages
Official Description: (Book #1 in the Jedi Academy series)
New York Times bestselling author/illustrator Jeffrey Brown takes readers to a middle school in a galaxy far, far away….
This incredible, original story captures all of the humor, awkwardness, fun, and frustrations of middle school–all told through one boy's comics, journal entries, letters, doodles, and newspaper clippings. The setting? A galaxy far, far away…
Roan's one dream is to leave home and attend Pilot Academy like his older brother, father, and grandfather. But just as Roan is mysteriously denied entrance to Pilot School, he is invited to attend Jedi Academy–a school that he didn't apply to and only recruits children when they are just a few years old. That is, until now…
This inventive novel follows Roan's first year at Jedi Academy where, under the tutelage of Master Yoda, he learns that he possesses more strength and potential than he could have ever dreamed. Oh, and he learns other important things too–like how to make a baking soda volcano, fence with a lightsaber, slow dance with a girl, and lift boulders with the Force.
My Take: 
Please bear with us, this is a first time interview process.
ROSH: Hey there fella the blog. What's your name? Wait, what's your fake name?
?: Minecraft Procedure
ROSH: Right?!? How old are you young slightly obsessed with video games person?
MCP: My fake age?
ROSH: No…your real age.
MCP: I'm not going to tell you!
ROSH: *Gives the look*
MCP: What! I'm 9.
ROSH: Do you know why you're here?
MCP: No.
ROSH: Dude. Stop playing games! You've been waiting to do this for over two weeks now.
MCP: To do an interview about Star Wars: Jedi Academy
ROSH: How many times have you read it?
MCP: Twice
ROSH: Can you tell me what it's about?
MCP: It's about Roan going to Jedi Academy.
ROSH: Wow, super specific! Was Roan excited? Was he supposed to go to Jedi Academy?
MCP: Roan was not excited and he was not supposed to go to Jedi Academy. He was supposed to go to flight academy…I think.
ROSH: What happened when he got to Jedi Academy?
MCP: He was bullied, he got friends, he met R2-D4.
ROSH: Were Roan's midi-chlorians off the chart? Was this pre-or post the Jedi Academy slaughter of Star Wars episode 3? Is that a weird question?
MCP: Yes that is a weird question! It was Pre…I think.
ROSH: Ok, back to not crazy people talk. What did you like the best about the book?
MCP: When he went to a dance, with a girl.
ROSH: What did you like least about the book?
When he fell asleep on his bed at his house.
ROSH: Ok, that sounds random. No sleeping for Roan. Tell me, what style is this book written in?
MCP: This book is journal style and it also has pictures. It's not like a picture book.
ROSH: Do other kids your age read this book?
MCP: Yes
ROSH: Do they like it?
MCP: I have no idea.
ROSH: Ok then, you don't talk to your friends about books?
MCP: No.
ROSH: Your friend that's a girl…your girlfriend, likes to read books. Do you think girls will love this book too?
MCP: She's not my girlfriend and I don't think they'll like it?
ROSH: Why? Are you putting girls in a girl book box and boys in a boy book box? Cause that's not cool kid!
MCP: No I'm not!
ROSH: That's ok, you know I'm playing with you! So, would you recommend this to a fellow star wars fan and if so why?
MCP: I would, 'cause it has a lot of Star Wars people in it. Like, Yoda and that's all I know.
ROSH: Is this book really hard to read? What grade level do you think would be able to enjoy this book? Or rather how early do you think kids could pick this book up? Are there lots of 'grown up' words?
MCP: There are not a lot of grown up words, in fact there are none at all. It is not hard to read. I recommended this for grade 2 and up.
ROSH: I'm not great at this interview stuff. Can you think of anything you would like to add?
MCP: No
ROSH: What would you rate this book on a scale of 1 – 5?
MCP: 4.5
ROSH: Why?
MCP: It's a good book, I just don't like that there are bullies in it.
ROSH: But isn't that part of it? How to deal with bullies, because there are bullies in every regular non-jedi, kids lives.
MCP: I know but these bullies are really mean.
ROSH: How long did it take you to read the book?
MCP: About a day.
ROSH: Did you see a moral or teaching point in the story?
MCP: No, I did not.
ROSH: Were you looking for one?
MCP: No.
Well thank you Minecraft Procedure. It's time to go to bed. I'll see you later!
Quote:
"A Jedi must be self-sufficient, hmm? Learn to cook, a Jedi should. Mmmm, soup"
Up Next: