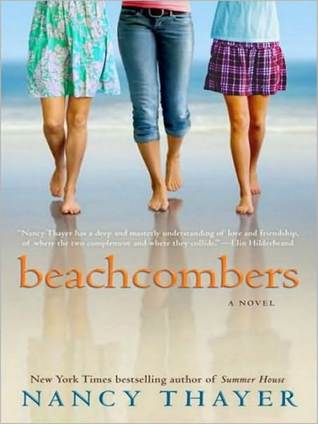 by Nancy Thayer, Karen White (Narrator)
Audio Edition – Read March 26, 2015
Original Release Date: January 1, 2010
Length: 369 pages
Official Description:
Abbie Fox hasn't seen her father or two younger sisters in almost two years. But now Lily, the baby of the family, is sending Abbie urgent emails begging her to return home. Their middle sister, Emma, has taken to her bed, devastated after losing her high-powered job and breaking up with her fiancé. Also, Lily is worried that the beautiful, enigmatic woman renting their guesthouse has set her sights on their widowed father. The Fox sisters closed ranks years ago after the haunting, untimely death of their mother, but seeing their dad move on with his life forces each of them to take stock.
Over the course of the summer, the sisters' lives grow as turbulent as the unpredictable currents off the New England coast: Abbie breaks her own rules in the name of love, type-A Emma learns a new definition of success, and strong-minded Lily must reconcile her dreams with reality. At summer's end, these unforgettable women will face profound choices—and undergo personal transformations that will surprise even themselves.
My Take: 
I have not had a very good streak in books lately, they have been very similar, very formulaic, and kind of bland. The last audio book I listened to was one of the Dresden File books by Jim Butcher, and that held my attention enough to also sit down and read it when I wasn't commuting. This book I almost gave up on. I am glad I didn't. I rarely give up on a book, I feel I owe it to myself to finish what I started, and also to the author who put their hearts and minds into the books. Call me strange, but I understand that these authors go to a lot of effort, and not everyone is going to like it.
I forget exactly where I got interested in the story. Somewhere in chapter 15 I think. Once everyone had their background story flushed out. My favorite character is the island itself, Nantucket. The history and descriptions of the island were breathtaking. I might have possibly bought some beachy decorations for my entryway because of the descriptions in this book. The island itself was a better focal point, to me, than the actual characters. The descriptions were lovely, you could almost taste the salt on the air while reading the book. The story is filled with lush imagery it is easy to get lost in the waves.
The actual characters are so-so. We have the sisters, Abbie, Emma and Lily and the stranger, Marina. Lets start from eldest to youngest shall we, I will do my best to avoid major plot spoilers.
Marina is a woman in her early 40s, fresh off a traumatic divorce renting a play house from the Fox family. She rented the cottage for 6 months she is trying to find out who she is since her whole life was marred from the divorce. She  finds solace and comfort in the island, learns about herself and discovers what she will become.
Abbie is the eldest Fox sister. She is in her late 20s and comes home from London where she was working a nanny for a wealthy couple, at the urging of her littlest sister. Abbie pretty much raised her sisters since her mom died when she was 15 years old. Abbie is full of self-sacrifice and she is also trying to find her identity, figure out her future, and has never allowed herself to fall in love.
Emma fell a bit too hard in love and she's now back home with dad after life dealt her a bad hand. Her engagement fell apart, she lost her job, and her home. She is dangling on the precipice of severe depression. Something that was mildly hit upon, but I suppose depression is such a deep subject that is too difficult to really explore in a light beach read. Emma is in her mid twenties and was the most 'successful' sister upon graduating high school.
Lily is the youngest, in her early twenties she is the epitome of the youngest child. She is self-centered, whiney, and it is really hard to root for her. She was the only one still living at home before the summer started.
So all four of these ladies has a POV. I don't really enjoy multiple POVs that much, but once you get used to it, it is not so bad. You know what is going to happen in the story before you get midway through the book. It's obvious. I don't agree with Abbie's relationship AT ALL. I was actually quite upset with how all that ended up. Yes you want the characters to have that happily ever after, but it annoyed me. I love the girls interaction with the older Nantucket natives, they were more interesting than the actual characters, mostly they gave a great history lesson of the island. Overall, this is definitely a beach read. It builds slowly but eventually you kind of care about the sisters journey's into self discovery. A lot of which involves learning from, and letting go, of the past. I definitely recommend this to people who can suspend the reality of life and loves happy endings.
The narrator did a good job, she made me dislike Lily even more than I already did. She did a fantastic job at conveying the emotion of the characters. She kept me interested long enough for me to actually start enjoying the book.
Up Next: