by Janet Evanovich, Lee Goldberg, Scott Brick (Narrator)
Audio Edition – Read March 31, 2015
Original Release Date: June 18, 2013
Length: 295 pages
Official Description: This is book #1 of the Fox and O'Hare series
FBI Special Agent Kate O'Hare is known for her fierce dedication and discipline on the job, chasing down the world's most wanted criminals and putting them behind bars. Her boss thinks she is tenacious and ambitious; her friends think she is tough, stubborn, and maybe even a bit obsessed. And while Kate has made quite a name for herself for the past five years, the only name she's cared about is Nicolas Fox—an international crook she wants in more ways than one.
Audacious, handsome, and dangerously charming, Nicolas Fox is a natural con man, notorious for running elaborate scams on very high-profile people. At first he did it for the money. Now he does it for the thrill. He knows that the FBI has been hot on his trail—particularly Kate O'Hare, who has been watching his every move. For Nick, there's no greater rush than being pursued by a beautiful woman . . . even one who aims to lock him up. But just when it seems that Nicolas Fox has been captured for good, he pulls off his greatest con of all: he convinces the FBI to offer him a job, working side by side with Special Agent Kate O'Hare.
Problem is, teaming up to stop a corrupt investment banker who's hiding on a private island in Indonesia is going to test O'Hare's patience and Fox's skill. Not to mention the skills of their ragtag team made up of flamboyant actors, wanted wheelmen, and Kate's dad. High-speed chases, pirates, and Toblerone bars are all in a day's work . . . if O'Hare and Fox don't kill each other first.
My Take:
Yeah, I finally got to read this! In this book we have Detective Kate O'Hare and thief, Thomas Fox which starts as the classic cat and mouse game. Then everything changes one day and that turns both of their lives upside down. There are several references to the prequel that was released as a teaser to this book. Goldberg and Evanovich dd a fantastic job co writing this one. I can't say I've read anything by Goldberg before though. It also makes me wonder how co-writing works, it seems like it could get frustrating when you put two ideas and writing styles together. It works though, I love the wit of both O'Hare and Fox. You know that they are attracted to one another but Kate is fighting that instinct. Of course you have Fox, who is kind of the opposite of Kate, though they are quite similar as well, who just toys with Kate as if she's a little mouse and he is the cat cornering her for a meal. It's all rather predictable, over the top and silly entertainment, but it's oh so good. I flew through this story and couldn't get enough, Scott Brick did a great job narrating. I haven't had a whole lot of audio books narrated by men, I can only think of 2 others, off the top of my head, and he did a wonderful job. What I like about this book, even with the predictability and over the top antics, the story is still captivating, it pulls you in and you root for the characters. Not only the main characters, but those side characters as well. I hope we see more of them in future books!
Previous Books in this series:
Previous Books by Janet Evanovich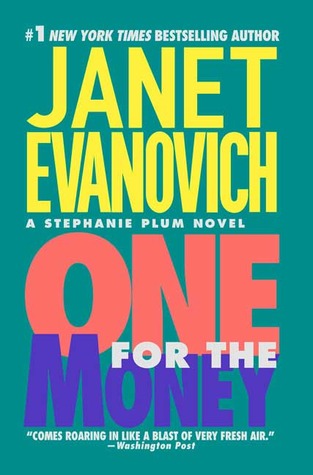 Quote:
"The man was irresistible. What's with that? she thought. It was like wanting to bake cookies for the spawn of Satan." "