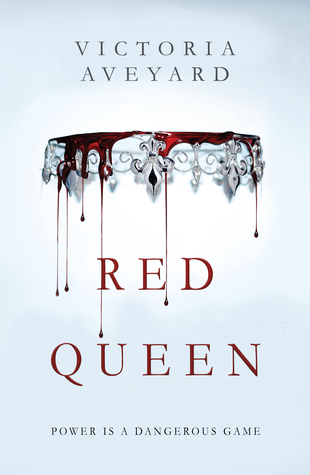 by Victoria Aveyard, Amanda Dolan (Narrator)
Audio Edition – Read July 3, 2015
Original Release Date:  February 10, 2015
Length: 383 pages
Official Description: (This is book #1 of the Red Queen series)
The poverty stricken Reds are commoners, living under the rule of the Silvers, elite warriors with god-like powers.
To Mare Barrow, a 17-year-old Red girl from The Stilts, it looks like nothing will ever change.
Mare finds herself working in the Silver Palace, at the centre of
those she hates the most. She quickly discovers that, despite her red blood, she possesses a deadly power of her own. One that threatens to destroy Silver control.
But power is a dangerous game. And in this world divided by blood, who will win?
My Take:
I was skeptical about this book. It's a new, popular, young adult novel. A kind of dystopian novel at that. A lot of people see this series heroine to be similar to Katniss Everdeen. I suppose that in some ways this could be true, but overall the series reminded me more of the Selection series….with supernatural aspects. How else are people describing it? An X-Men type world…where the mutants rule. I can see that except, the people with extraordinary powers have silver blood and the regular folks have red blood. It would make sense that the extraordinary would rule, they would gain power by might, suppressing the folks without powers. Which of course is what happens here. The silvers rule the universe and Mare's existence in their world threatens to tear that world apart. I love Mare, she is the typical smart-ass 17-year-old girl type I love. She does what is expected, but secretly is fighting for what she believes is right. She does what she can to be the best she can. There are lots of deceptions in this book. The biggest one is one that I figured was coming, but it is still heartbreaking. We've got a love triangle…square kind of thing going on here, sort of, like with Katniss, I don't think the love factor is that important, in the end. We have Mare her childhood friend, Kilorn, who Mare wants to save, constantly. He is ever-present in her life, even if it's just in the back ground. We also have Cal and Maven, brothers. I like Cal the best personally, but hey there is someone for everyone. All of the characters are naive, really naive. Maven and Mare have the common bond of always being in the shadow of a better sibling, always coming second, always being looked at as a disappointment. Cal is the attractive older boy who Mare enjoys talking with and spending time with, they just have that understanding between one another.
Ok, I don't want to give away too much plot, because that's not what's important here. The fact is that it is enjoyable, yeah it may take some cues from other books, but it has its own life. It's own heart. I did not want to stop listening to the story. The narrator did a fantastic job with the authors words. If you enjoyed The Selection and other dystopian type underdog novels then you'll probably like this one too. It has lots of growth in characters, a sassy lead, a not really love triangle/square, and a bunch of twists and turns. Plus, it has a great cover.
My Favorite Quote:
"Anyone can betray anyone."
Up Next: