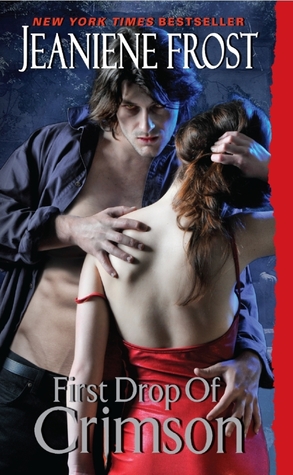 by Jeaniene Frost, Tavia Gilbert (Narrator)
Audio Edition – Read May 23, 2015
Original Release Date: February 9, 2010
Length: 388 pages
Official Description: This is book #1 of the Night Huntress World series
he night is not safe for mortals.
Denise MacGregor knows all too well what lurks in the shadows – her best friend is half-vampire Cat Crawfield – and she has already lost more than the average human could bear. But her family's dark past is wrapped in secrets and shrouded in darkness – and a demon shapeshifter has marked Denise as prey. Now her survival depends on an immortal who craves a taste of her.
He is Spade, a powerful, mysterious vampire who has walked the earth for centuries and is now duty-bound to protect this endangered, alluring human – even if it means destroying his own kind. Denise may arouse his deepest hungers, but Spade knows he must fight his urge to have her as they face the demon nightmare together…
Because once the first drop of crimson falls, they will both be lost.
My Take:
This is the first book in the Night Huntress spin-off series. You should not start with this book as the first Frost book you read though. Otherwise, you will be utterly confused. This book falls after book 4 in the original series, and it should be read before reading book 5. There are several events here that are mentioned in the Cat and Bones world. This is Shade and Denise's story. I knew how it would end, unfortunately, because I did read book 5, however it was pretty is obvious just by reading the story and the description.
We know Spade as Bone's best friend from pre-vamp days. We know Denise as Cat's best friend, though she never really stuck out to me, so it was hard to remember her in the previous stories. A lot of the characters pop in, because, well they are in the same world after all. We see Ian, Cat, Bones, Mencheres and a few other characters, as well as new ones. We also throw in shape shifting demons and a family 'curse' of Denise's. If you can get over the very rapid falling in love bit, then this is pretty much as good as the Cat and Bones story. Except it's super rushed. Where C&B fell in love over years, Spade and Denise have weeks to get to know one another. Plus, the have their past loves to get over. I really did enjoy the story, I loved Tavia Gilbert's reading, she is a fantastic narrator. Yeah it's a bit kitchy and formulaic, but I still enjoyed it.
Ok, so I have to admit, my favorite character isn't Cat or Bones, though I love them as a couple, but I love Vlad. I can't wait to read his books, his character is just so…I don't know rich I suppose, and we don't even get much of him. There were some great tear tugging moments between Cat and Don, so great, so human, which Cat has started to stray away from even more lately.  I love the scene with the Queen of New Orleans, I thought the after effects were really weird though. I mean, it was a bit ridiculous actually. Random characters from previous books pop up, you know the ones you completely forgot about and weren't all that important.
The book was back to being formulaic, you know how this book is going to go, because it's just like all the books. However, it was enjoyable. This was not my favorite book in the series, but then again I should have read the spin-off series first. Maybe that would have changed my opinion.
Quote:
"Denise clung to the feel of his hands as she pushed at her panic. It's okay. You're safe…and this has got to be the ugliest couch ever."
Other Books by Jeanine Frost:
Up Next: