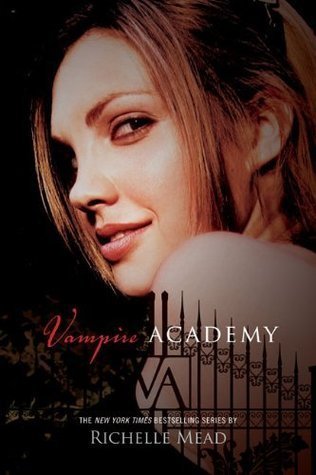 by Richelle Mead
Paperback Edition – Read July 19, 2015
Original Release Date: August 16, 2007
Length: 332 pages
Official Description: (This is book #1 of the Vampire Academy series)
ONLY A TRUE BEST FRIEND CAN PROTECT YOU FROM YOUR IMMORTAL ENEMIES…
Lissa Dragomir is a Moroi princess: a mortal vampire with a rare gift for harnessing the earth's magic. She must be protected at all times from Strigoi; the fiercest vampires—the ones who never die. The powerful blend of human and vampire blood that flows through Rose Hathaway, Lissa's best friend, makes her a dhampir. Rose is dedicated to a dangerous life of protecting Lissa from the Strigoi, who are hell-bent on making Lissa one of them.
After two years of freedom, Rose and Lissa are caught and dragged back to St. Vladimir's Academy, a school for vampire royalty and their guardians-to-be, hidden in the deep forests of Montana. But inside the iron gates, life is even more fraught with danger…and the Strigoi are always close by.
Rose and Lissa must navigate their dangerous world, confront the temptations of forbidden love, and never once let their guard down, lest the evil undead make Lissa one of them forever…
My Take:
I love Richelle Mead, I love her sarcastic way of writing, I enjoy her characters. I already knew what was going to happen in the book, though so that was a bummer. I did watch the movie, and it wasn't horrible, it was not cinematic gold either but it kind of got the gist of the story. I just really enjoy Ms. Mead's writing style, and from going from the serious Age of X series to this one is nice too. I know this book has been out a long time, but I was reluctant to read this because of all the hype, and the fact that I like the adult books Mead writes so much. I just didn't want to be disappointed. I wish I hadn't seen the movie first, I knew all the twists and turns that were coming, there were no real surprises. I liked the additional characters, that the story is more flush and whole. I love the quirky sarcastic Rose, and the relationship with Dimitri seems like it has potential. I wonder where the story will go with Rose and Lissa, the relationship between Vampire and Dhampir does not seem like a fair one. I will have to add the next book to my reading queue ASAP, because I just really enjoy the writing.
Quotables:
"The greatest and most powerful revolutions often start very quietly, hidden in the shadows. Remember that."
Other Books by Richelle Mead:
Georgina Kincaid Series:
Succubus Dreams (Book 3), Succubus Heat (Book 4), Succubus Shadows (Book 5), Succubus Revealed (Book 6)
Dark Swan Series:
Shadow Heir (Book 4), Dark Swan (Graphic Novel)
Age of X Series:
Gameboard of the Gods (Book 1) The Immortal Crown (Book 2)